AJournal supports syncing data with multiple iPads via iCloud. We will add support for an iPhone companion app in future AJournal releases.
Users must have an active subscription to use iCloud sync in AJournal.
It is not recommended to enable iCloud sync if the user only has one iPad, as iCloud sync will use more data storage on the device and in iCloud. It will also slow the app performance a bit.
To enable iCloud sync, please tap "iCloud sync" in the menu.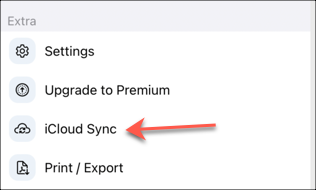 Then tap the "Enable iCloud Sync" button.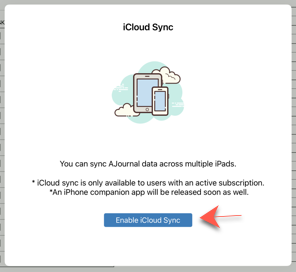 Creating a data backup is highly recommended, and then saving it to another folder after data backup. So in case something goes wrong in the iCloud sync process, the user can restore the data back.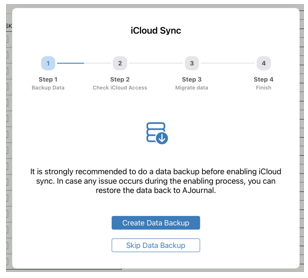 After the "Backup Data" step, AJournal will check whether the user has network-enabled, has iCloud logged in, and has authorized AJournal to access iCloud.
AJournal will allow the user to enable iCloud if all checks are passed.
If there is no AJournal data on iCloud, AJournal will show this UI.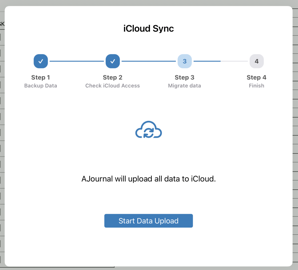 If there are AJournal data on iCloud already, AJournal will ask the user whether to migrate local data to iCloud or delete local data and just download iCloud data to the local device.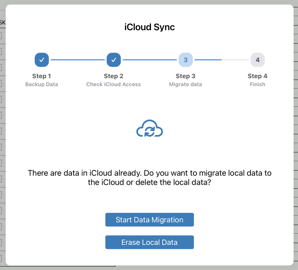 If the user chooses to migrate data, AJournal will ask whether the user wants to use the local device as master or iCloud data as master. As different iPad models have different screen resolutions, this will affect which screen size will be used for pre-defined templates in the future. It will not affect any existing pages. Users can recreate the pre-defined templates with device screen resolution manually later.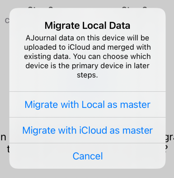 After starting the data migration, AJournal will first upload/download all data files via iCloud, as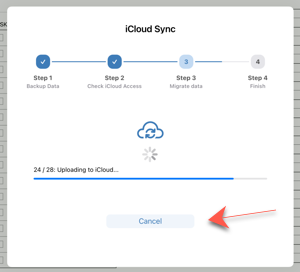 Users can tap the "Cancel" button to cancel the iCloud enabling process.
After that, AJournal will start migrating the AJournal database via iCloud. It might take several minutes to finish this process. In this process, users cannot cancel the operation. Stop the app forcefully might corrupt the database file in AJournal.
After all files and the AJournal database are synced, AJournal will show,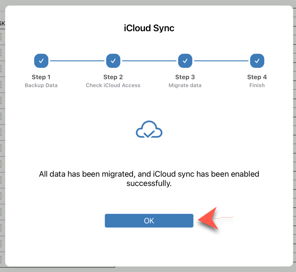 Users can tap the "OK" button to close the dialog and keep using AJournal.